Frequently asked questions
---
Why has my household been chosen?
The Crime Survey for England and Wales is designed to measure the extent of crime by asking households whether they have experienced any crime in the last 12 months. Visiting every address in England and Wales is not possible as it would take too long and the cost could not be justified. Instead, we select a representative sample of addresses and ask people at these addresses to take part in the study. These addresses are selected to represent the population as a whole.
In 2021/2022 approximately 50,000 households will be selected to take part in this research. These households are chosen at random from the Royal Mail's list of addresses. Interviewers do not know who lives at the address until they visit it.
Once an address has been selected for the study, we cannot replace it with another address. This means that we rely on the goodwill of those who have been chosen to take part in the survey.
---
What does taking part involve?
If your address has been selected for the survey, you should have received a letter informing you about the survey. The letter is accompanied by a leaflet containing more information about the survey. Copies of the letter and leaflet can be downloaded here
An interviewer will visit your address to ask you to take part in the survey. All Kantar Public interviewers carry an identity card and will have informed the local police that they are working in your area. Always ask to see an identity card before you take part in the survey.
The interviewer will ask a few questions about the people who live at the address. If more than one person lives at the address they will randomly select one person aged 16 or over to take part in the study. Selecting one person in this way helps to ensure that the study represents everyone in England and Wales.
We rely on people's voluntary cooperation and are very happy to arrange appointments so that you can complete the interview at a time that suits you. The interviewer can make an appointment when they call at your address or alternatively you can call the Crime Survey information line (0800 051 0882) to request that the interviewer telephones you to arrange a suitable time to visit.
---
I have never experienced any crime,
do I still need to take part?
It is very important that we talk to people who may not have experienced any crime as well as those who have, to make sure that we have a balanced view. Addresses are selected at random and that means that some high crime areas will be included as well as some areas where crime is very rare. By talking to people from all types of areas the survey is able to give a true picture of crime for the country as a whole.
---
How can you check the interviewer is genuine?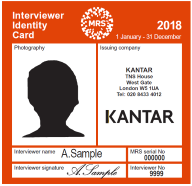 All interviewers working on the Crime Survey for England and Wales work for Kantar Public and Kantar Operations. They carry a Market Research Society Interviewer Identity card with their interviewer name, number and a photo (as shown on the left). If you would like to check the identity of an interviewer you can call the Crime Survey Information line on 0800 051 0882.
---
How is Kantar Public working in a secure manner during the COVID-19 pandemic?
Face-to-face data collection is a valuable method to ensure people's views are represented and we want to reassure you that we are working in line with Government and Market Research Society guidelines to minimise the risk of Covid-19 transmission:
Our interviewers will be required to self-assess their health and will not be expected to work if they have displayed symptoms of Covid-19 in the last 10 days. We recommend that interviewers conduct lateral flow tests every working day.
Social distancing will be observed by interviewers. Interviews will only be conducted where it is possible to maintain a 1 metre social distance. Ideally, interviews will be conducted at a 2-metre social distance.
Interviewers will wear a surgical mask and will sanitise their hands and equipment before entering your home, during the interview if we need to pass anything to you and before leaving your home.
The interviewer will arrange a suitable time with you to conduct the interview. Prior to the interview, to ensure we are working in a secure manner, we ask if you could please support us in making the interviewing environment safe by:

Opening all doors to provide a clear entry way and reduce the amount of contact our interviewer has with surfaces in your home
Choosing a place for the interview to take place where you and the interviewer can sit at least 1 metre apart. Ideally, this would be 2 metres apart
Opening a window to provide ventilation in the room where the interview will take place
Minimising the number of occupants in your home when the interview is taking place
If you have a private garden or other outdoor space, you may decide if you want the interview to take place outdoors
Should you or anyone in your household test positive for COVID-19 in the 10 days after the interview takes place, please call 020 8433 4012 (during office hours, Mon-Fri, 9.00am - 5.30pm). Your contact information may be shared with NHS Test and Trace.
---
What happens to the survey results?
The results from the Crime Survey for England and Wales are published by the Office for National Statistics. The full results are published annually each July with quarterly updates published in January, April, July and October. The public can use the findings from the survey to understand for themselves what is happening to the level of crime in the country. Click on the link below to go to the publications of results on the ONS website.
Results from the Crime Survey for England and Wales (ONS publications)
---